| | | |
| --- | --- | --- |
| " | 「時空を超え、万敵を斬る。」Transcend space and time, cut down all adversaries. | " |
| | ~ Shinobi 3DS tagline | |

Jiro Musashi (ムサシ・ジロー Hepburn: 武蔵次郎 Musashi Jirou) Is the protagonist of Shinobi 3DS and the father of series legend, Joe Musashi .
Jiro Musashi is a young shinobi of the Oboro Clan who possesses a deep connection with the natural world. Becoming the leader of the clan at an early age, he was trained in the ancient ways of his ancestors in Obororyu Taijutsu (朧流体術 Oboro Style Classical Martial Arts) Shinobi Magic during the Kencho Period. But after ZEED forces invaded his ancestral home, he was catapulted through time and flung into the future, where ZEED has become ruler of the world. Now he is forced to battle his way through an unfamiliar world and destroy his hated enemies as the sole survivor of his clan.

One day, in the year 1256 AD, the Eighth Year of Kencho, Jiro was sent on a mission to assassinate the ZEED Group; Ninja that defied the Emperor's will. Using his superior skills, the young shinobi easily slaughtered their forces, but the lords escaped from him. Confident that he'd find them soon enough, Jiro returns to his village to resume his Ninja training.
Attack on Oboro and Catapulted Through Eras
Edit
Transmission of the Secrets
), ceremoniously recieving full proficiency in the Obororyu Ninja Arts. But while the two silently celebrated, Jiro's village is under attack by ZEED. After repelling the attackers from the village, Jiro and his mentor see a mysterious light shine in the sky.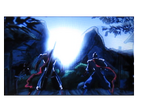 Sensing something ominous, Jiro prepares to investigate. His lover gazes at him, and it is presumed he promised he'd return to her safely.
After tracking down ZEED survivors in the caverns, Jiro would find himself in an unnaturally snow covered area, where he would meet a dangerous woman capable of controlling the element of ice and cold at will. Wasting no time, Jiro fought against the demonic Yuki-Onna in mortal combat, and cut her down where she stood.
City of ZEED, Sarah's stand
Edit
​Investigation; An Alliance is Born 
Edit
Jiro and Sarah Strike at ZEED; A Betrayal Uncovered
Edit
Jiro makes his way through the Shadow Temple, where the inner sanctum of ZEED is said to be. Jiro traverses various dimensional gates within the complex maze as he cuts down many of the ZEED forces while heading to the spaceship as it takes off.
In the control room of the ship is where he finds Sarah under attack by ZEED's leader, the Shadow Master Jiro saves Sarah from being killed by the Shadow Master's blade, but is shocked when Sarah's accidental gunfire breaks his mask, revealing Jiro's own master as the Shadow Master's true identity.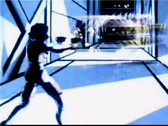 It is revealed that the Shadow Master survived for 800 years due to the demon mask that he wore, given to him by the mysterious alien known as Orn As the Oboro were abducted to be used to create the ultimate interstellar space army. Jiro, undaunted by the loss of so many of his comrades in his home time, yet enraged by his former mentor's treachery prepares to end the Shadow Master's life. After a lengthy struggle, Jiro defeated his traitorous sensei, but lowers his sword not able to strike the final blow. Seeing this as a sign of weakness, the Shadow Master grunts a sinister laugh before he strikes the control consul causing a malfunction of the shuttle and perishes in the crash. After escaping the crashed shuttle, Jiro goes deeper into the space ship that houses the true mastermind of the Oboro Village Assault.
Orn; the Sword of the Stars
Edit
Jiro goes deeper into the ship where comes face to face with the mastermind behind the events; an ancient alien Orn. Orn reveals that he masterminded the assault of the Oboro Village, corrupted Jiro's mentor, and led to the death of Jiro's lover, who is revealed to be reincarnated as Sarah. Jiro and Orn battle to the death. Despite Orn's advantage of self recover in the ship's core, Jiro emerging victorious. But Orn chastizes Jiro, saying he sees victory but has no idea what he's done. As Orn's body disintegrates, he shouts joyfully "At last, I am FREE!" as the ship explodes.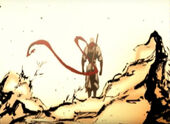 Jiro is cocooned by his Ninjutsu as he reenters the Earth's atmosphere, protected from the vacuum of space and from being incinerated upon reentry. As he lands back on Earth unharmed, Jiro walks away, presumably to begin the Oboro clan anew.
Appearance
Edit
Jiro is a young man of lean muscular build that wears a white Shinobi shozoku with leather and armor plates. He carries a golden amulet that according to the Shinobi 3DS comic was given to him by the Emperor, and a golden Oboro Emblem on his belt. His helm is modeled in the same manner as Hotsuma and sports the trademark red scarf. Strapped to his back is an uncharacteristically large shinobi katana (as traditionally they were shorter for ease of mobility) that appears to have been passed down in the Oboro Ninja Clan.
Personality
Edit
As heir to the legacy of Oboro, Jiro is a loyal and rectitude man. Acting in service of the emperor, he undertakes savage missions of stealth and assassination in order to preserve the Japanese Empire's prosperity. He is also seen to be a very loving man, as he stares at a woman, his unnamed lover, with great affection and cherishes each member as family. Jiro also has a deep connection with Mother Nature, and so he shows deep respect and appreciation to the natural world.
As a man of Justice, he adheres to the teachings of the Shinobi, and is ready to lay down his life for the greater good, but is also intolerant of treachery, as is seen when the Shadow Master reveals himself to be the Ninja elder he was training with that betrayed Oboro to ZEED. He is not without a soft side though, as despite everything the Shadow Master had done, he still cared, as shown when he was about to cut him down, Jiro is hesitant to kill his own teacher. Also to his lover, he held great affection, and shows similar emotion to Sarah to a degree.
After facing Orn, the perpetrator of the attack on his homeland, Jiro Musashi decides to begin the Oboro anew, hoping for the future.
Relationships
Edit
Jiro's Master/ Shadow Master- 
Edit
Jiro's mentor was once a respected member of the Oboro, and the man who trained Jiro in Ninjutsu, the Shinobi Art of Stealth, Invisibility, and Perseverance. Jiro highly respected this man as a mentor and friend of his family. And as his student, he thought by performing dutifully for the clan, Jiro was honoring him. But unknown to Jiro, his own master was the ringleader of ZEED, a group of Ninja that defied the Japanese Emperor. After learning of his betrayal, Jiro was shocked and devastated, but more than that, enraged at what the man he called his friend betrayed him and their family. Despite this, Jiro couldn't bring himself to kill him, so the Shadow Master commits suicide by destroying the control consul of the shuttle they are on and crashing into Orn's shiphanger.
Colonel Sarah Krieger
Edit
Initially these two met on an awkward circumstance. When Jiro was flung into the future, the energy that surrounded him upon landing in the future lured her and her squad there. As soon as Jiro awoke, he was confused, and believed he was being taken prisoner, so he kills the squad, but is unable to kill Sarah, whose face reminded him of his lover, back home; the woman he laments failing to save. After helping her Special Task Force fight off Zeed, Sarah begins to see Jiro for who he truly is; a fighter like her, who wants Zeed brought down for good. After Jiro is saved by her, they finally come to an understanding and become friends. As shown by how Sarah looks at Jiro, she holds a secret feeling for him. It is later discovered that she is in fact a reincarnation of Jiro's lost love, and Jiro saves her from Shadow Master, not wanting to lose her too.
As the mastermind behind the attack on the Oboro Village and his master's corruption into the Shadow Master, Jiro despises Orn with a passion. Orn attacked his home and used Jiro's beloved clan as a template to create the ultimate space ninja army. His actions on the village also lead to its ruin, and the supposed death of Jiro's lover. Orn is pracitically the first living being Jiro had true hatred towards
Abilities
Edit
Taijutsu-​ As a master Ninja, Jiro's physical skills have been honed to perfection since birth. As a master of the Obororyu's Taijutsu, Jiro can traverse dangers and access secret areas that average men would find impossible.
Master Infiltrator-  An expert in the stealth aspect of Shinobi, Jiro can look for the least obvious places to infiltrate enemy territory.
Ninjutsu Extraordinaire- A trait that would be inherited by his son Joe Musashi, Jiro has mastered the various Ninjutsu (Shinobi Magic), enabling him to decimate his foes with relative ease or to access hidden levels of strength.
Kenjutsu Master- As a skilled shinobi, Jiro has great skill with the katana, enabling him to repel bullets, or perform gravity defying skills.
Master Assassin- ​As a ninja Jiro is skilled in assassination, from performing stealth kills, to finding an opponent's weakness and exploiting them with relative ease, enabling him to match the likes of Zeed's entire army, and even triumph over Orn. 
It is revealed on a Japanese source site that Jiro's timeline is a completely different one from previous Shinobi games, making Jiro's debut a reboot of the series. Because Jiro was catapulted into the year 2056 AD, Joe Musashi was not born in the 20th Century and thusly the continuity doesn't exist with the original SEGA plot, but is an alternate universe altogether.
Jiro's circumstances mirror that of Samurai Jack; a noble warrior thrown through time and flung into the future battling his hated enemy.
The incident between Shadow Master and Jiro mirror Masked Ninja Nakahara and Joe Musashi from the very first Shinobi game; a ninja stopping the ring leader of an operation who by cruel irony happens to be his own master from the same clan the ninja belongs.
In the Shinobi 3DS comic Jiro's timeline is revealed to be 1256 AD, Kamakura Era Japan.
Jiro has an affinity with nature, and so every time a firefly appears, it acts as an crisis alarm for him.
References
Edit
Ad blocker interference detected!
Wikia is a free-to-use site that makes money from advertising. We have a modified experience for viewers using ad blockers

Wikia is not accessible if you've made further modifications. Remove the custom ad blocker rule(s) and the page will load as expected.