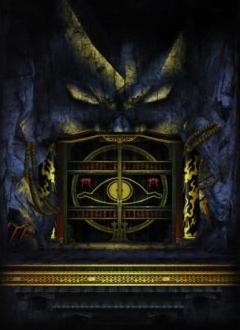 Jigokumon (in Japanese: 地獄門, Jigokumon; The Gate of Hell) is the name of a large bewitched door turned Hellspawn demon found at the Golden Palace and a boss from the 2002 videogame Shinobi.
This door is brought to life by the sorcery of Hiruko to stall the Oboro Ninja Clan's leader Hotsuma on his way towards the Golden Palace. The door itself cannot defend itself nor is mobile, but it is guarded by both the Soutoushakki and Kuroganekitou, Ogre type Hellspawn demons summoned to guard the door. They failed as Hotsuma slew them and the living door to make his way towards his final battle with Hiruko.
While Hotsuma was infiltrating the Golden Palace to avenge the loss of his family and clan, Hotsuma slaughters a swath of Hellspawn and undead Oboro ninja as he proceeds to the palace entrance. After overcoming obstacles that a normal man would find insanity to attempt to pass, Hotsuma makes it to the Jigokumon, a Hellspawn doorway that serves as the entrance to the palace. The gate senses Hotsuma as an intruder and attempts to kill him by summoning Hellspawn to eliminate the Oboro ninja leader. Hotsuma hastily obliterates his Hellspawn opposition before hitting the demonic gate with a powerful slash of Akujiki, forcing the vile gate to open the gates to the palace to him.
Hibana of the Shinobi Agency and last heir of the Oboro bloodline, would face the door as Hotsuma before her, as she scrambles to find the rampaging Akujiki shards before the Nakatomi group can steal it for their own ends. As Hotsuma did, she lays waste to the Hellspawn it summons and drives the evil presence in the door out, opening the gate to the inside of the palace ruins.